IDMANN STEP is a collaborative partnership between IDMANN Institute, IDMANN Academy, and sister schools. The goal is simple: To provide sister schools with rapid and affordable access to the skills, capabilities, and infrastructure needed to deliver outstanding online tutorial experiences to their students. IDMANN STEP helps students - and teachers - in sister schools to get the resources they need to effectively learn - and teach - in a supportive and enhanced online environment.
As the name implies, IDMANN STEP is a partnership between three institutions. Each member of the partnership brings a unique and distinct set of capabilities to take the STEP forward.
---
Sister schools use the resources of IDMANN Academy to hold their classes, and to manage the entire tutorial experience of their students. Basically students "attend classes at IDMANN Academy". However, students from sister schools are taught by the same teachers they have always had at their home school.  By utilizing the considerable resources of IDMANN Academy and the experience with delivering online tutorial services to students, sister schools can get their students - and teachers - online very quickly with NO additional effort on the part of the sister school.
IDMANN Institute (through the Online Teacher Preparation Practicum (OTPP)) provides teachers at sister schools the critical (and ongoing) training needed to become proficient online teachers. OTPP recognizes that even though many teachers are very competent in their subject areas, delivering the material online requires a unique (and new) set of skills. OTPP provides the training needed to close that gap. (For more detail, refer to the OTPP program.) Participating teachers from sister schools go through the OTPP training and receive their certificates at the end of the designated period at no additional cost to the teachers or the sister school. This is a direct investment in the upskilling of the teachers at sister schools.
IDMANN Academy provides all the operational support needed by sister schools to teach their students online everyday. Transitioning legacy teaching material to "live" online content; registering students in appropriate [online] classes; managing day-to-day scheduling of classes; ensuring the suitability of the online sessions for the specific bandwidth available to students in the class(es); supporting the development of online testing and grading material for all classes; facilitating online "after-school" programs; providing real-time "technical support" to teachers during class sessions, etc., etc. ALL the operational support needed to ensure an effective school program - including a platform that is purpose-built for online teaching and NOT social networking - is provided by IDMANN Academy.
---
The result is a truly durable tripartite partnership as outlined below: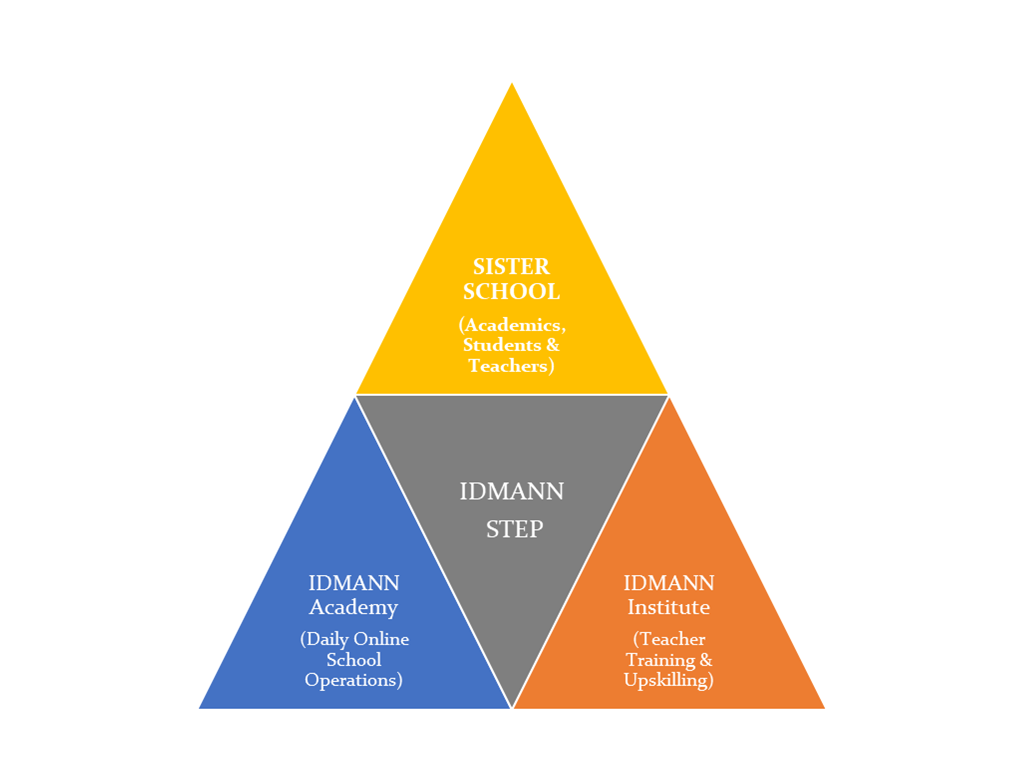 IDMANN STEP FAQs:
 So Do The Students Become "Students" Of IDMANN Academy?


No. The students remain students at their home school. They are admitted and register with their home school; their academic progress is monitored and documented by their home school; they take their required tests and exams under the auspices of their home school. The goal is NOT that students leave their school and come to IDMANN Academy but that we all work together to ENHANCE the tutorial experience at the sister school by leveraging the joint resources of IDMANN Institute and IDMANN Academy.

Who Collects School Fees?

The sister school. The students are students at the home school. The sister school collects ALL fees. The revenue-sharing is a matter between the organizations. At no point do the students pay IDMANN Academy or IDMANN Institute directly.

But We "Manage To Hold Classes" On WhatsApp!

True. Many schools don't know what to do so they improvise. Holding classes on WhatsApp is like "cutting meat with a spoon". It can be done but it is inefficient and often ineffective. In some cases, downright dangerous. WhatsApp, Zoom, Skype, etc., are all platforms that were developed for social interaction, and perhaps business communication, but certainly not tutorial instruction. And it shows. They do not have the inbuilt tutorial facilities a teacher would need to hold a class effectively. They create stresses for the teachers and make for an unpleasant experience for most students. In many cases, students simply drop out, out of frustration. This is NOT what any school wants. Online classes, if done right, can be a pleasant experience for teachers and students alike.
And then there is the issue of online security. No one wants to put our precious children in an online classroom environment where their data will be sold, or worse, their security is compromised. Our online platform is designed from the ground up for the tutorial environment. Digital security is the base-rock on which our solution is built. It creates the secure environment for teachers to teach, and for students to learn.
To show how pervasive this issue has become (and why it is so important to focus on a solution that is built around tutorial security) 'Zoombombing' - the terrifying intrusion of unwanted people into classrooms and online sessions - now has its own Wikipedia entry. Click here to learn more about it.
A short demonstration of our online tutorial environment will immediately highlight the distinction between a well thought out, purpose-built solution on which our institution is based, and the "jury-rigged" solutions that are now proliferating in the name of "online classes".

How Quickly Could We Get Our Students In Class?

With concerted effort, we could have a school online within one week. Typically it takes about two weeks, with most of the delay coming from the time needed to get families ready for students to attend online classes.

Can Students Interact With Students From Other Countries?

Yes. With appropriate arrangement, certain courses can be arranged so students take classes jointly with their colleagues from other schools, even from other countries, so as to exchange ideas and experience different cultures. Students find this to be a very enriching experience and benefit from IDMANN STEP. Obviously, this requires careful planning to make sure students have the same slot in their class schedules. But, yes, this is part of the benefit of partnering with international institutions like IDMANN Institute and IDMANN Academy.

How Long Does The OTPP Training For Teachers?

Under IDMANN STEP, OTPP training runs for 6 months, with teachers taking classes every other week. This schedule is designed knowing that teachers are under added pressure when making the transition to teaching online. They learn while teaching their students in IDMANN STEP. By scheduling the training every other weekend over a 6-month period, teachers can take their classes comfortably and conveniently. This is especially important since OTPP (like every other IDMANN course) is taught by live instructors and requires classroom participation. Teachers who go through the program get their Certification Of Completion at the end of the six months.

What Practical Tools Do You Provide For Teacher Training?

As part of OTPP, teachers have FULL access to an online practice classroom for their practicum. They have an LMS, an SMS, a real-life tutorial platform and all the other tools they need to practice and become proficient online teachers. They learn how to set up and administer tests, create and manage classrooms, assign grades, manage student feedback, etc. Basically the OTPP practicum provides teachers ALL the resources they would encounter in real-life. (See the OTPP curriculum here.) Furthermore, teachers in the same OTPP cohort evaluate each other (in their practice classes under the guidance of their experienced instructors) and thereby become proficient instructors.

How Long Does The Partnership Last?

Our goal is to form long-lasting, evolving, partnerships with our sister schools. We keep adding programs and supportive initiatives to our programs. However, sister schools may withdraw with 90-days notice if their needs change and they no longer see value in continuing the partnership.

IDMANN Academy Has The Renowned Entrance Preparation Program (EPP). Our Students Too Need Help Preparing For Exams. Can Our Students Participate?

Yes. Students from sister schools get a discount on EPP registration and participation. They also gain access to ALL the past questions from relevant exams in our "live testing" environment to prepare for their examinations.

Can Our Teachers Take Other Courses Offered By IDMANN Institute?

Yes. Teachers from partner schools get a substantial discount on ALL courses offered by IDMANN Institute.

Can Our Students Register In Other Programs At IDMANN Academy?

How Do We Get More Information?
How Do We Sign Up?

Send us an email (

) with your contact details, and we will assign an Educational Outreach Associate (EOA) immediately to work with you to develop an on-boarding plan for your unique needs. We could get your students online very quickly as we continue to train your teachers to improve their online teaching skills.
 We look forward to partnering with your organization.